A smart combination of beauty and function
Swanstone is the ULTIMATE SOLID SURFACE. No other compares. Simple as that. No other product sold as solid surface equals Swanstone in impact resistance, stain resistance, renew-ability and heat resistance.
Why is that? Mainly due to the fact that Swanstone is compression molded in a clam-shell at a high temperature, over 500 degrees. Due to compression molding, Swanstone excels at chip, crack, stain and mold resistance.  It's simply the best choice for long-term wear and tear. All other brands including Corian are cast acrylic resins. Meaning that it's a liquid type material that poured into a mold for whatever shape is desired. Due to this fact, the impact resistance is substantially lower.
There is a good reason that Swanstone is the industry standard for solid surface in Housing Authorities, College and University Housing, Healthcare and Military Housing. Not just in the St. Louis area, but all over the country.           In fact, Swanstone is even sold in Great Britain and Western Europe,  only under a different name.
                                                                                                                                                             An American product that's actually EXPORTED to other countries.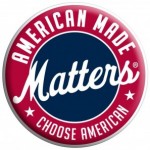 American Made. Stronger than Dirt. That's Swanstone.
Take at look at these industry test results. Compare. Then rest assured that when you choose Swanstone for you next project, your getting the most trusted solid surface product in the industry.